I should be so lucky - Malcolm Middleton Live at SMHAFF screening, Oct 19, Glasgow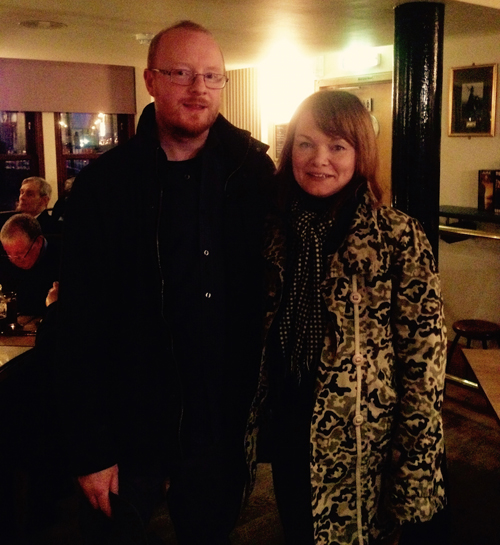 Some years back I decided to write a fan-girl email to one of my favourite musician / performers - Malcolm Middleton, whose Arab Strap and solo stuff I loved. It was late at night when I emailed, I was very tired from looking after my Mum, and I definitely didn't expect to hear back from the guy when I suggested that just maybe he'd be the right kind of person to write a score for my new film. The one I hadn't made yet. I'm not sure how I was so sure he'd be on the same page as the film, that he'd get it, but somehow I knew he would. So off went the email and I waited....
The very self-effacing and very normal Malcolm got in touch quickly said he'd love to, we had a drink in Glasgow (pictured) and off we went on with our respective paths to bring the film to fruition.
Over the slow and painstaking edit of The Closer We Get, nocturnal Dropboxes full of beautiful new music came my way from Malcolm's Fife home, each one full of surprises and each one pushing a scene I'd shared with him along, or adding new resonances and even dissonances. We'll draw a veil over Malcolm's manful attempts at crafting an accordion track which we both thought - God knows why - might work....Eventually we had the finished score, which - with one additional track from James Blackshaw, and a gorgeous vintage orchestral piece chosen by our talented sound designer Doug Haywood - made the film complete.
So here we are now, planning the Oct 19 screening in Glasgow for the Scottish Mental Health Arts & Film Festival at which Malcolm isn't just joining me for the Q & A afterwards, but also doing a wee live set afterwards. I really hope you can be with us for what will be a really memorable event.
It's beyond exciting, and proves that dreams do come true, and that those late night emails sometimes get through.