Return to the Hall of Shame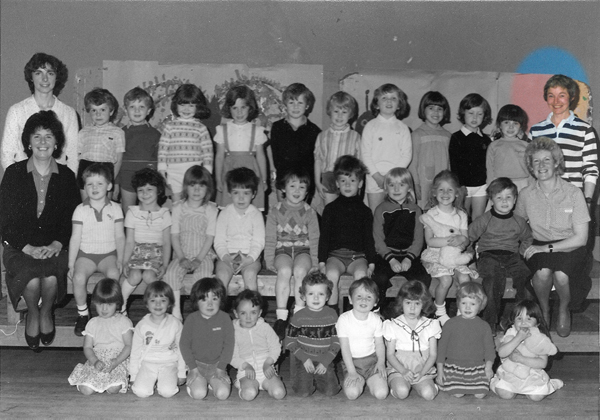 Contrary to this post title, I'm in fact very thrilled to be screening at St Columba's Episcopal Church Hall in my hometown of Largs this Friday (Oct 30). It will without doubt be my proudest moment within those hallowed walls.
This very ordinary 1960's church hall lies behind a rather splendid Victorian church, a stone's throw from my childhood home - too short a throw, as we discovered when my brother Sean decided to practice his drum solos one Sunday morning instead of attending church. The unwelcome 'accompaniment' to the morning Eucharist was discreetly dealt with by the then-minister and my mum, and was never repeated.
My mum Ann knew this venue as well as she knew her own kitchen. In the 1970's & 80's she'd led the Largs Pre-School Playgroup in there (pictured above), with countless singalongs, finger-paintings and macaroni pictures - to the end of her life former 'pupils' would stop her in the streets and say hello. Countless church meetings and coffee mornings were supplied with her unforgettable shortbread, which could be carried across the road from our own house whilst still warm, often followed by one of the family cats in tow.
Most of my childhood leisure activities took place in church halls, and most often in this one. However, my own achievements there were considerably more patchy than my mother's. Once, I marched across the road after a tiff with Mum and resigned, haughtily, from Brownies in front of the whole troupe. I'm not sure how Brown Owl (our leader) kept a straight face, with this tiny, angry redhead making such a solemn declaration. I also recall a church fundraiser where myself, my sister Alison and Mum competed in a live knitting competition. Mum was awarded top prize for speed, my sister top prize for quality, and I a prize for the worst knitting presented. As a teenager I sang in the church choir and often sprinted across to the hall with a slice of toast in hand, to tussle into a musty cassock and rush through the practice of the day's music. I also remember Girl Guides evenings there, and especially the perplexing practice sessions of semaphore we endured: rows and rows of teenage girls with huge unwieldy flags and our leader shouting archaic, war-era commands that we supposedly translated into - errr - flag movements.
Also Guide-related was an evening near Christmas one year, when a local Santa Claus impersonator would join us and dole out presents to the girls. On this particular occasion, there was something familiar about the fellow behind the fake-fur beard diligently spreading jollity through the hall, and once the man concerned uttered the phrase 'You lucky people' I knew - there was only one person on planet earth that used this expression: it was my dad Ian pretending to be Santa. I wanted the ground to open up and swallow me, as teenagers often do.
So this Friday it will be a great relief to be in the hall without a cassock, a flag, an unexpected Santa or knitting needles. Just a film and me and an audience, and the memory of that lovely shortbread.